Certificate in Outdoor Learning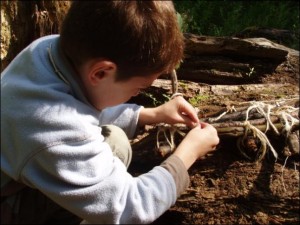 This is a practical, hands on course filled with action packed ideas of how to use the natural environment creatively
The two day course has been developed to give an introduction to the Archimedes Model of Outdoor Learning. It is concerned with exploring the use of the outdoor learning environment in a number of ways and will develop the confidence and expertise of practitioners, no matter their backgrounds into making decisions and choices as to the best approaches to use with their particular client group.
We will provide an overview of the current literature with an exploration of the historical significance of the relationship between childhood and nature in shaping the concepts of wellbeing, emotional literacy and confidence. Examples will be Froebel, Margaret McMillan and Goesta Frohm, a Swedish exponent of outdoor learning and Laevers as well as an introduction to Louv and Gill.
The course will enable you to give your children the natural experience they deserve, help them to appreciate the wealth of nature and to live lightly in the future.
These theorists underpin much of our outdoor learning practice we observe, especially in the early years, and this is designed as a 90% practical hands on course, as a consequence, the majority of the time will be spent in sessions, exploring different natural elements. We will examine Earth, Air, Fire and, Water, with the main emphasis on the connectivity with the natural environment and how Nature becomes the third teacher. Underpinning each session will be a range of learning outcomes that cover aspects of social and emotional aspects of learning, practical knowledge or skill development to encourage confidence in participants.
Forthcoming Courses
Certificate in Outdoor Learning: Course Content
Historical Context to Outdoor Learning
Why Outdoor Learning is so important to individuals and communities
Benefits vs Risks – How to maximise the potential and keep your children safe – Tools to do the job
Sessions – Ways of using the Earth
Reflective Practice, you and them
Development of themes – the emotional and social curriculum
Using a variety of reflections to enhance learning and reach potential
Sessions – Things to do with a piece of string
Examining ways of supporting children's development – to be or not to be
Sessions – 25 ways of using the air around you
 Working with a range of groups and linking into curricula
Maslow and the basic needs of life, love and contentment
Sessions – Ways with fire
Developing themes and quality provision – 10 principles of quality in the outdoors
Sessions – Ways of water
Exploring and creative thinking
Using your curriculum to maximum benefit
Plenary
We can deliver this course for a group at your location –
Please Contact Nafeesa on +44 (0) 1142 834060 for details.